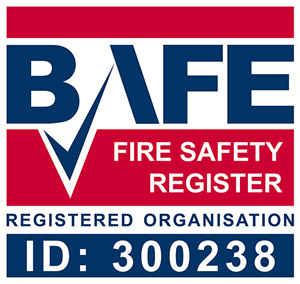 Looking for a fire extinguisher maintenance provider?
We have an experienced team ideally situated near Edinburgh to provide BAFE accredited fire extinguisher maintenance and commissioning.
Call now on 01592 655 591
BAFE accredited for the commissioning and servicing of fire extinguishers
BAFE Modular Scheme SP101 ensures that fire safety organisations such as Caledonia Fire and Security are competent to provide fire extinguisher services, including the sourcing, commissioning, siting and maintenance/servicing of the systems.

The scheme was originally deployed to raise awareness and increase the quality of fire extinguisher service organisations across the UK working in this field. Each technician working within this scheme has been awarded the BAFE Diploma which includes further training and awareness to health and safety, as well as items such as asbestos.

By working with Caledonia Fire and Security you can rest assured that our team will be working to the safest and highest standards within our industry.